OUR TEAM
This community is led and maintained by full-time staff who give their lives to the task of journeying with students on this campus to discover and build a deeper relationship with Jesus.
When school is in session, we have a group of student leaders who have committed to serving this community in a more hands-on way. They lead our Community Groups & Catalyst Teams where they volunteer massive amounts of time to help our grow trips & initiatives and are responsible for spearheading many of our other events.
Grant Roth - senior campus minister
Email: grantroth.cch@gmail.com

I grew up in rural Illinois. I also grew up in the church, but the gospel didn't have much of an effect on my life between Sundays. Jesus captured my attention and my affection in a new way at a conference I attended while in high school. That's where God began kindling a passion within me and clarifying a call on my life to help others experience the difference that Jesus makes. I attended a little college in Missouri to study the Bible and I met my wife, Veronica (or Roni), in the process. We lived in Louisville, Kentucky for 3 years after college, doing ministry in a variety of capacities at Southeast Christian Church and welcoming our son, Logan, into the world. When not at CCH, I enjoy playing disc golf, racquetball, and ultimate frisbee, cheering for the Chicago Bears (this is not always very enjoyable), reading, writing, watching movies and TV shows, and playing board games with friends.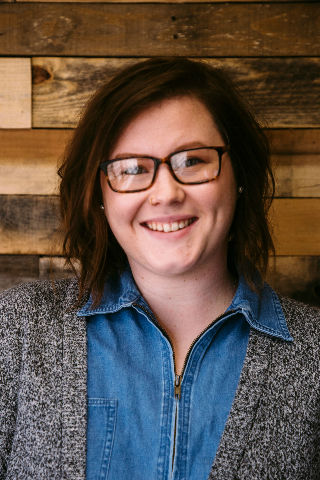 Katie Danforth - women's minister
Email: k.danforth4@gmail.com
I'm an alumni of UCM & the Christian Campus House. It was during my time as a student that the Lord sparked my interest for college ministry. The Lord used the CCH community to breathe life into who I am in Him and the wonderful gifts He put in me. I do what I do at the Christian Campus House because doing life
with
God is the greatest adventure I have stepped into. I want college students to experience how cool God is & the beauty of redemption that He can bring into our brokenness. When not at CCH I enjoy playing with my dog Bonnie, thrifting, snagging coffee with a friend, playing board games, baking, & gardening.
Katie is not currently fully funded... If you are interested in helping financially support Katie in her role at the Christian Campus House, you may choose to either designate funds to her by mail or through our
online giving portal
.
Virginia Sackett - financial secretary
Email: sackettvirginia@gmail.com

I enjoy quilting, reading, cooking, and ministering with my husband in a small rural church. I became aware of the Christian Campus House ministry through a granddaughter's involvement while she was at UCM. I was excited to have the opportunity to become a part of the ministry as a Financial Secretary in June 2016. It allows me to do two things I love, crunch numbers and witness the spiritual growth of the students as they strengthen their walk with Jesus through their involvement at CCH.